Neurosciences Research Center receives major grant from Jordan Elizabeth Harris Foundation
Neuroscience Research,
News and Announcements
| July 27, 2021 | cookchildrens
Crystal Cooper, Ph.D., a principal investigator at Cook Children's Jane and John Justin Neurosciences Center, recently received a research grant from the Jordan Elizabeth Harris Foundation. The grant for up to $100,000, will help fund her work investigating Cognitive and Neuroimaging Biomarkers of Well-being in Youth with and without Epilepsy. The mission of the Harris Foundation is to eradicate suicide by funding depression research, creating awareness through education, erasing the stigma and providing hope to those who are struggling in silence. In line with this mission, the main aim of the study is to investigate behavior and brain function as they relate to clinical aspects of pediatric epilepsy and depression.
Dr. Cooper joined the Neurosciences Research Center in the Fall of 2020 to investigate epilepsy comorbidities and pediatric mental disorders under the mentorship of Christos Papadelis, Ph.D. Dr. Cooper's vision is to bridge the fields of neurology and psychiatry to improve our understanding of youth with comorbid seizure and mental disorders, specifically epilepsy and depression that occur together at high rates. During her previous tenure as an Assistant Professor at UT Southwestern, Dr. Cooper did extensive work in the field of biological psychiatry with a focus on the development of novel bio-signatures of disease-risk, disease-state, and treatment prediction in depression across the lifespan.
In her current project, Dr. Cooper will investigate cognitive processes such as regulating emotions and experiencing pleasure that are postulated as underlying symptoms of mood disorders, but may be effected in epilepsy. She will also use multiple neuroimaging techniques (magnetoencephalography, electroencephalography, and magnetic resonance imaging) to identify the functional brain markers of these cognitive processes and psychological/mental health in epilepsy. Her experience paired with the resources at Cook Children's and the generosity of the Harris Foundation will undoubtedly usher in important findings that can aid depression and seizure treatment success in youth with epilepsy.
Contributing staff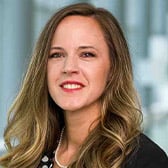 Related programs