Celebrating 10 Years of Deep Brain Stimulation
Innovative Care
| October 26, 2018 | cookchildrens
In September 2017, we celebrated 10 years since the introduction of deep brain stimulation (DBS) as a treatment for patients at Cook Children's. DBS received a humanitarian device approval from the FDA in 2003 for treatment of dystonia in patients as young as 7 years of age and Director of the Movement Disorders program, Warren Marks, M.D., first proposed the idea of doing DBS in 2005 in response to a patient's needs.
Two years of study and planning ensued, and in September 2007, Cook Children's performed its first implant. MaryAnn Reed, clinical nurse specialist, was instrumental in ensuring we had adequate educational support for our patients and families and remains actively engaged today. We were the first independent children's hospital in the United States to offer DBS, and remain the most experienced program in the United States. More than 100 patients from across the country and around the world have benefited from our program.
Initially performed with patients conscious but sedated, John Honeycutt, M.D., director of Stereotactic Neurosurgery, led our transition to intraoperative MRI image-guided surgery in 2011 and is the most experienced pediatric neurosurgeon using the Clearpoint system. Our team serves as a resource to other programs that are being developed worldwide.
What is deep brain stimulation?
In simple terms, DBS is a pacemaker for the brain delivering a small current of electricity to carefully targeted areas of the brain responsible for managing movement. Dr. Honeycutt has pioneered the use of the intraoperative MRI to provide highly accurate targeting without the need to do invasive electrical monitoring.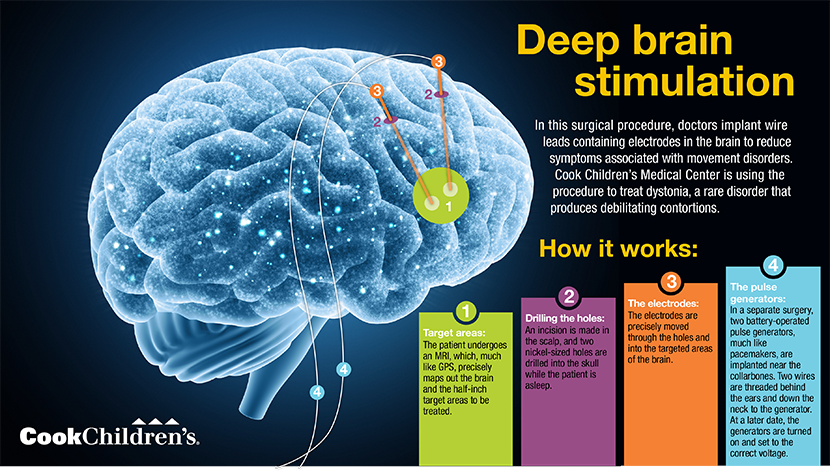 Deep brain stimulation at Cook Children's
How does DBS work?
The electrical current from DBS both disrupts abnormal brain signals and helps the brain establish new pathways of information over time. Similar to medication, the dose of DBS can be individualized for the patient's needs to achieve the best outcome. Stimulation parameters are programmed with a small computer placed on the skin over the implanted pacemaker located in the chest area. Warren Marks, M.D., Fernando Acosta, M.D., and Stephanie Acord, M.D., are the movement disorders neurologists responsible for patient programming.